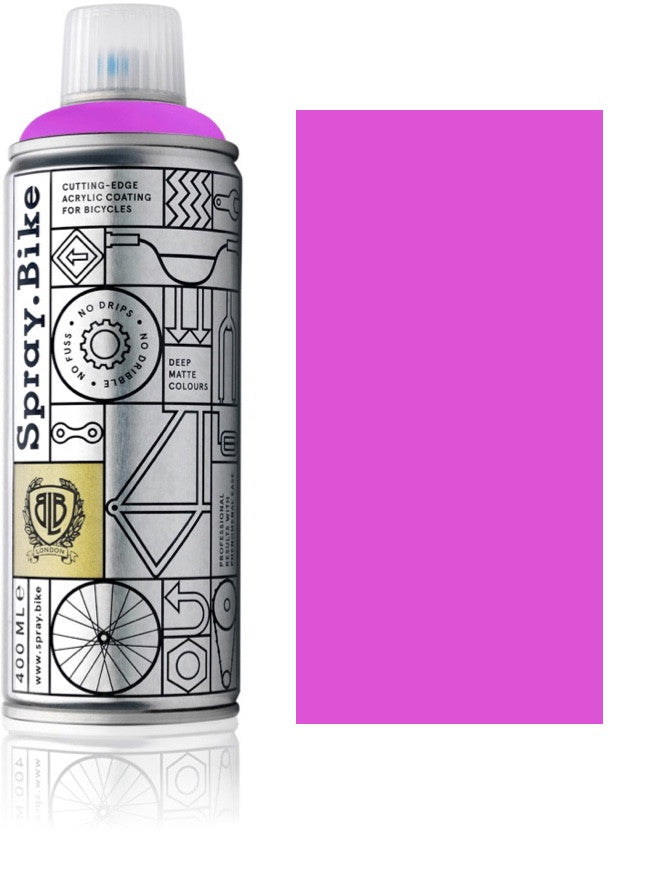 Fluorescent Collection
Blisteringly bright fluorescents for both intense color and reflective safety use.
Spray.Bike Fluro Magenta - 400ml
Bright neon magenta. Note that the painted color is more of pink that the color sample illustrates. The photo illustrates Fluro Pink on the left side of the can and Fluro Magenta on the rights side (Blackfriars on the bottom for reference)
Spray distance: ~2 inches

Ιdeal for steel, aluminium and carbon parts

A 400ml can will cover a bicycle frame and fork with a single coat

Recommended over a base coat of White / similar or Metal / Cold Zinc Primer where appropriate

Recommended coats: 1

Requires no post-application heat treatment

For a satin or gloss top-coat, finish with Spray.Bike Frame Builder's Transparent Finish - Satin/Gloss. For a matte top-coat, finish with the Frame Builder's Transparent Finish - Matte
For ongoing protection (whether the finish is matte, satin or gloss), regularly apply the Frame Builder's Top Wax
Please note: 
This product can only be shipped to an address in the USA from this site.
Elsewhere? Click here.